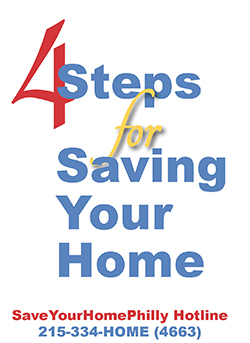 About the Residential Mortgage & Tax Foreclosure Prevention Program
Philadelphia's Residential Mortgage Foreclosure Prevention Program helps families facing the loss of their homes through foreclosure.
The Program is available to Philadelphia homeowners whose properties are in the process of mortgage foreclosure. The property must be occupied and serve as the primary residence of the homeowner. The Program provides free housing counseling and free legal advice, and offers a forum where lenders can engage in good faith negotiations with homeowners to develop a plan for saving the home from foreclosure.
To learn how the Program can help save your home from foreclosure, contact the
SaveYourHomePhilly Hotline
at 215-334-HOME (4663).