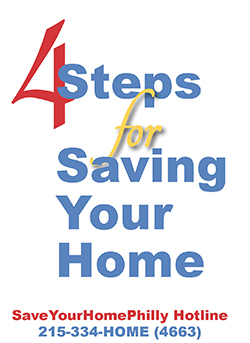 Housing Counseling Meeting
Bring the following documents (where you have them) to your Housing Counseling Meeting for Mortgage Foreclosure.
Verification of income for all household members
Most recent federal tax return or W2s
Pay stubs (two months)
Proof of non-work income (alimony, child support, SSI, Social Security)
Documentation of Current Household Expenses
Two most recent bank statements
Copies of recurring bills (utility bills, car loan payments, credit cards)
Evidence of other major expenses such as health insurance, tuition, etc.
Copies of Any Foreclosure Notices or Court Notices Received
Foreclosure complaint
Sheriff's Sale Notice
Other court notices
Copies of Your Loan Documents for All Loans on Your Home
First mortgage
Home equity loan (if applicable)
Second mortgage (if applicable)
Other important documents that may apply to your situation
Current agreements you may already have worked out with your lender
Proof of any expected income (from a legal settlement, inheritance, or new job)
Letter describing any hardship that led to your financial problems (examples: recent divorce, injury or illness, temporary job loss)
Bring the following documents to your Housing Counseling Meeting for Tax Foreclosure.
Please bring:
Most recent federal tax return or W2s
Pay stubs (two months)
Proof of non-work income (alimony, child support, SSI, Social Security)
Copies of recurring bills (utility bills, car loan payments, credit cards)