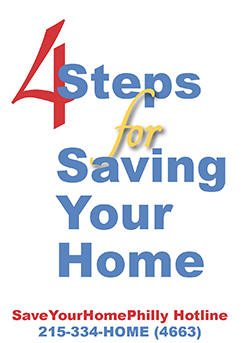 The SaveYourHomePhilly hotline
is the only government-authorized foreclosure prevention program in Philadelphia. It is staffed by trained lawyers and paralegals who can assist you with your case, connect you with a housing counselor or, in certain instances, refer you to legal services available to eligible low-income homeowners.
Call the SaveYourHomePhilly hotline if:
You have missed a mortgage payment
Your mortgage payments have suddenly increased
You think there is a problem with your mortgage
You have unpaid property taxes
You have City liens (including water liens)
You received a letter from the Sheriff's Office
You don't understand your loan documents
You think you have been the victim of a foreclosure rescue scam
You have questions about a reverse mortgage that you have or are thinking about getting
All services are FREE!
The City of Philadelphia is committed to helping families facing foreclosure stay in their homes. Philadelphia's Residential Mortgage & Tax Foreclosure Prevention Program gives homeowners a way to negotiate with their mortgage lenders, with the support of housing counselors, volunteer attorneys, and the oversight of the court system. It's an innovative approach to foreclosure prevention that is making a real difference for the homeowners of this city.
Be very wary of people who offer to arrange loan modifications for you for a fee. Many of them are not legitimate. Please contact the SaveYourHomePhilly Hotline at 215-334-HOME (4663) if you have received any offer to arrange a loan modification for a fee, or if you have any questions about mail that you have gotten regarding your mortgage.
Is this some kind of scam? How do I know this is a legitimate program?
The City's effort is not a scam. The Program is a joint effort of the Philadelphia Court of Common Pleas and the City of Philadelphia's Division of Housing and Community Development, which funds the SaveYourHomePhilly Hotline and the Housing Counseling program. The service is provided free to Philadelphia homeowners. Since it began in 2008, the Program has saved 15,767 homes from foreclosure.



© 2023 Division of Housing and Community Development. (DHCD) All Rights Reserved.
It is the policy of the City of Philadelphia to provide services without regard to race, color, religion, sex, sexual orientation,
having AIDS or being perceived to have AIDS, national origin, ancestry, familial status, physical handicap or age.